THE LABEL
C'est l'histoire de deux frères, passionnés de musique depuis tout petit, et aussi d'art mais ça ça se voit moins. Les deux frangins ont plongé dans la blogosphère la tête première, il y a une poignée d'année. Après, des aventures séparés, ils décident de fonder ensemble une blog commun avec d'autres amis. Entre temps, les compères ont accumulés une quantité de trouvailles musicales importante voir, trop importante, qui encombre armoire, sol, chambre, salle de bain, tout espace non musical, n'est pas un espace vivable n'est ce pas.
Requiempouruntwister est néé en un printemps de 2007 ensoleillée et qui twist encore dans nos mémoires depuis plus de 3 ans.
Aujourd'hui le point com, les milliers de visites, quel succès, bientôt on va pouvoir se la petter autant que la blogothèque. En fait non, c'est toujours un truc artisanal, DIY et animé par les deux frérots accompagnés d'amis occasionnels qui laissent leurs mots d'encouragement.
This is a story about two brothers, both music freaks since they're kids, but also art freaks. They came into blogosphere years ago, separatly but after few solo projects they decided to do a new common one with some other friends to share their passion for music, youth and art.
Requiempouruntwister is now up for three years and we hope it will twist and shout at least 3 years more.
THE ARTISTS / RECORDS
TRIPTIDES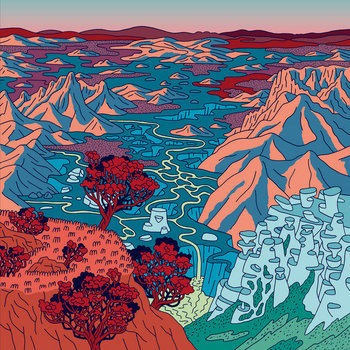 As the tides of the ocean draw their power from the moon above, the music of Triptides is fueled by the mind-bending inspiration and wide-ranging creative talents of Glenn Brigman (vocals and guitar), Josh Menashe (guitar and vocals), Dylan Sizemore (bass guitar) and Shaugnessy Starr (drums).
The trip began in 2010 in the heartland of America, where Glenn and Josh shared ideas and influences as university students in the bohemian basements of Bloomington, Indiana. Triptides has since evolved to incorporate a complex yet cohesive range of lush, "psychedelic beach-pop" sounds that were first explored on two EPs, Triptides and Tropical Dreams.
A full-length album, Psychic Summer, was released in 2011 and demonstrated the band's growing command of a full spectrum of instruments and recording techniques. Two more LPs, Sun Pavillion and Predictions, followed in 2012 and 2013, delivering finely crafted songs in the spirit of '60s and '70s West Coast pop and psychedelia, along with grittier punk-psych grooves that span the past five decades, all of which contribute to a powerful synthesis that defines the band's timeless yet unique sound and character.
In 2014, the band became a four-piece, adding Dylan Sizemore on bass, which provided the opportunity for a greater live presence and electrifying sets. A growing fan base and extensive touring throughout the United States led to an invitation to play the Rock In Rio festival in Lisbon, Portugal, sharing the bill with The Rolling Stones, Queens of the Stone Age, and others.
While Dylan remained in Indiana, Glenn and Josh relocated to Los Angeles in 2015, and upon arriving brought Bryant Fox (bass) and Brian Dove (drums) into the Triptides fold. Later that year, they released their fourth LP, Azur, on Paris-based label Requiem Pour Un Twister. The album showcased a different side of the band, drawing inspiration from '80s groups such as The Cleaners From Venus and The Wake in addition to '60s psychedelic influences.
In 2016, Triptides continued their momentum as a powerful live act, traveling across The Pond to tour the UK, performing as a headliner at Manchester Psych Fest in addition to shows in London and Brighton. Forging friendships with several of the top psychedelic bands of our time, Triptides joined British sensations Temples in late 2016 on the West Coast leg of their US tour. The ensuing buzz resulted in an invitation to play to a national television and online audience on Last Call with Carson Daly, where the band performed four songs, two of which aired in October 2016 and the other two in February 2017
As the band looks towards the future, Dylan Sizemore has joined the great migration west to Los Angeles, returning to bass, with Shaugnessy Starr bringing his likeminded psychedelic sensibility and style to the drums. They released their 5th full length record « Afterglow » in the Summer of 2017. The group embarked on a European tour in support of the record and performed at the 2017 Desert Daze Festival.
In 2018 the group returned with Visitors, their 6th full length album. They returned to Europe for a full tour to celebrate the release which ended with a headlining performance at Barcelona Psych Fest.
More infos : https://www.facebook.com/Triptides/
PEARL & THE OYSTERS
Originally from Paris, Juliette Davis and Joachim Polack met as teenagers and studied musicology together at university, where they fell in love with the bossa nova music of Brazil in the 1960s. Polack relocated to Florida for more school, and Davis soon followed. There, in the vibrant artist community of Gainesville, they began recording and performing pop songs inspired by their early, fantasy-like visions of The Sunshine State. The resulting album, as Pearl & The Oysters, is a charming and carefree collection which brings to mind the brightest sides of Stereolab and Broadcast. It sees release through art collective and cooperatively run label, Elestial Sound.
More infos : https://www.facebook.com/pearlandtheoysters/
CORRIDOR
Ça part de l'exaltante torpeur des riffs et d'un oiseau mort dans le couloir en face de la porte d'un local. Apparu en 2013, Corridor livre cette même année l'initiateur EP Un magicien en toi, qui installe sa guitar pop motorik via un rock exploratoire aux mélodies fébriles et aux capacités planantes, et lui permet d'entamer une association avec le réalisateur Emmanuel Ethier (Chocolat, Bernhari, Peter Peter) pour la suite – qui ne tarde pas : au printemps 2015, le groupe fait paraître Le voyage éternel, un premier album sur lequel les structures se concrétisent et le galvanisant des mélodies se définit.
Une première tournée européenne suit en 2016 – le quatuor est notamment programmé lors d'une Fête Souterraine, où il fait la rencontre de la mystique psych pop Halo Maud, et en résultera, quelque temps plus tard, le single collaboratif Deux coeurs. 2016 toujours, le quatuor retourne – déjà, tout le temps – en studio avec Emmanuel Ethier pour enregistrer Supermercado, qui paraît en 2017 sous Michel Records + Requiem Pour Un Twister : un deuxième album de guitar pop magnifiée où la répétition et la progression de rythmiques minimalistes et les enchevêtrements et contrepoints mélodiques s'alimentent dans de grisantes mosaïques aux horizons verticaux.
En plus de permettre au groupe de parcourir les sols européens à nouveau, le disque se retrouve sur les palmarès indépendants partout au Québec (CISM, CHYZ, CFAK, CKUT, CJLO), au Canada (earshot!), en France (Radio Campus, Férarock), et jusqu'aux USA et au UK, pour finalement se loger au #1 du Top franco de CISM à la fin de l'année (le single Coup d'épée est aussi sacré #1 Indie Rock d'Attitude Franco sur SiriusXM).
Bref ça va pas pire. Pour continuer dans les listes d'affaires importantes, notons que Corridor s'est affiché aux Francofolies de Montréal, à Pop Montreal, au Coup de coeur francophone (avec l'amie Halo Maud), à M4MTL, au FMEAT et au OUMF, en plus de se faire voir au Heart Of Glass, Heart Of Gold d'Aveyron, au Hop Pop Hop d'Orléans, à six (6) showcases à SXSW '18 et au Waking Windows de Winooski au Vermont, partageant au passage la scène avec Allah Las, White Fence, Preoccupations, King Gizzard & the Lizard Wizard, Omni, Shopping, Halo Maud, Requin Chagrin, TOPS, Chocolat, B Boys et Ulrika Spacek. On en conclura que c'est de la musique pour gens intelligents.
More infos : https://www.facebook.com/corridormtl/
HALASAN BAZAR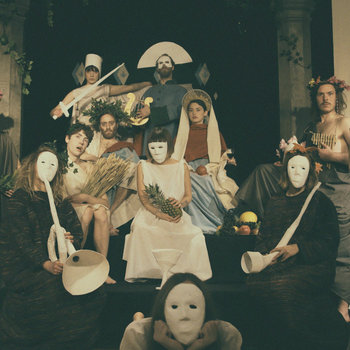 The lush psych-pop sound of Copenhagen's Halasan Bazar returns with their ambitious third album, "Burns". After numerous shows, recording sessions, a powerful collaboration LP and tours, "Burns" finds the band even more seasoned and impressive, giving the record a breezy naturalism from these gurus of their psychedelic craft.
Recorded in the French mountains, armed with a magical unending bag of weed, Halasan Bazar laid down these tunes mostly live – all vocals, acoustic guitars, drums and piano. This immediacy emphasizes their blissed out sonics, buoyant melodies and kaleidoscopic composition, each moment purposefully placed creating their rich sonic tapestry. Inspired by the greats of Greenwich Village's '60s folk, the lavish production of Lee Hazlewood, vocal harmonies of yesteryear and hallucinogenic day tripping. Some surf-y guitar vibes and plenty of driving piano jams too.
Tunes like "Freak" wave that Halasan flag proudly atop infectious guitar melodies and layered vocal harmonies creating a sing-a-long anthem for the misfits and the weirdos out there. "Get Sick and Die" incorporates swelling strings for an unexpectedly dreamy passage alongside sophisticated rock 'n' roll. One of many highlights, "Burns My Mind" has a driving, catchy groove and the entire band firing on all cylinders crafting a bombastic party atmosphere.
A beautiful and vivid album from an unapologetic band of freaks and dreamers, Halasan Bazar effortlessly leave their mark with "Burns ».
Steve Rosborough, Moon Glyph Records
More infos : https://www.facebook.com/Halasanbazar/
DEAD HORSE ONE
Dead Horse One est est un groupe originaire de Valence qui publie son premier EP en 2012 chez Cranes Records (The History of Color TV, The Dead Mantra…), suivi d'un split remarqué avec les Manceaux de Dead Mantra. Le groupe recoit un nombre élevé de critiques positives suite à ces deux sorties, ce qui leur permettra notamment de jouer pour la deuxième édition du fameux Liverpool Psych Fest en 2013. Après un premier LP produit par Mark Gardener des légendaires RIDE, Dead Horse One a depuis réalisé un deuxième album – Season of Mist – sorti chez Requiel pour un Twister (Corridor, Triptides, Good Morning TV…) et a enchaîné les premières parties pour RIDE sur plusieurs dates francaises et européennes (Lyon,Bruxelle,Utrecht, Berlin…).
DEAD HORSE ONE is a band founded in 2012. Their music spans multiple genres including Shoegaze and psychedelia.
Dead Horse One hit the ground running in 2012 with the phenomenal Heavenly Choir of Jet Engines EP, which leaned somewhat towards the dark and heavy and immediately established a highly realized sound for the band. The group has performed at the Liverpool psych fest 2013 and has shared the stage with The Telescopes, The Veldt, and French compatriots H-Burns.
Dead Horse One's debut full-length, Without Love We Perish, produced by Mark Gardener of Ride,has been completed and will be released the 22 october 2014 by HANDS AND MOMENT (Japan)
Hailing from southern France,the quintet released the superbly titled 'Heavenly Choir of Jet Engines' EP
Inspired by Ride, The Telescopes, Swervedriver and John Barry soundtracks, the group formed in the town of Valence and have won appreciation Stateside with The Austin Town Hall website praising the band's "early shoegaze" guitar textures. Focusing on the poppier end of the psych spectrum away from thunderous grooves the five-piece create swooning psych pop gems.
'Their avowed aim is to be a "Heavenly choir of jet engines" filling the soundscape of the world with an endless extended note, wistful and melancholic….macabre and beautiful…from which will emerge pop songs…and they do.' – Joe Foster – co-founder of CREATION RECORDS
More infos : https://www.facebook.com/deadhorseone/
PAIN DIMENSION
Melun in the surburbs of Paris hides one of the best secret of the french garage scene : Pain Dimension. Two years ago they released a first 7′ inches that was acclaimed by Maximum Rock'n'Roll or Rock & Folk. Pain Dimension's debut LP « Empty Room » starts with a wink to it previous work : a new and fresh take on « Brainwash », main track of our 2014 release. But don't expect Thibault Cuzol and his boys to repeat same tricks all over. Sure « Empty Room » is packed with some of the nastiest and hotest garage tunes you might hear in France currently but it's so much more ! From the jangly psychedelic anthem of « Empty room » or the frenzy synth-punk of « Your Last Request », Pain Dimension epitomizes the sound of disillusioned generation that has only know crisis since it birth.
More infos : https://www.facebook.com/Pain-Dimension-186542511422443/
CHEAP RIOT
One year after their Rock'n Folk (Fr) and Maximum Rock'n Roll (USA) acclaimed debut single, Paris based punk band Cheap Riot is returning with their first long player.Sharping their new songs while heavily touring in mainland Europe, sharing the bill with bands like Hinds or Cosmonauts, Cheap Riot recorded this first album in a week with French analog wizard Lo' Spider. If the band will certainly not play at your prom, Ballroom Portrait is showing us red-hot catchy songs, remembering us class of '77. As any good punk record should be, Ballroom Portraits is heavily political, sarcastic and raging, but they never forget to bring up the melodies during the rampage.
In our opinion, Riot is still the best way to solve problems, especially when it's a Cheap Riot.
More infos : https://www.facebook.com/cheapriotband/
FUTURE
FUTURE is a three-piece band from Paris, identified by Reverberation Appreciation Society and The Black Angels' leader Christian Bland, as one of the most interesting upcoming psych band via their latest compilation.
Taken in the marble, the body on the cover, designed by upcoming artist Marion Costantin, greatly expresses the music of FUTURE. Horizons is a sensual, cold and gloomy record, sounding like the sequel of The Cure's Pornography (1982) but made in 2015. Sure, it's shoegaze but it's also much more, it's catchy, fierce and bright in its own darkness.
Their live shows are raw, dark and intense, a perfect soundtrack of our times.
More infos : https://www.facebook.com/Futurebandclub
VENERA 4
Considering their music as a total work, faithful to the precept « DIY » inherited from the post-punk scene, Venera 4 was already noted by a first Ep, « Deaf Hearts », which laid the foundations of a music both spatial and intimate, where the vocal sensuality rubbed the bestiality of the electric guitars.
Eidôlon is a dense and introspective album that finds over the tapping. It includes the icy elegance of Broadcast, melodies worthy of the best of Ride, and a white wall of noise that would not deny Jesus & Mary Chain.
Abrasive, violent, delicate and sexual, Eidôlon is the image of the creation of his time : a protean art form.
More infos : https://www.facebook.com/venera4band/