THE LABEL
Label, booking agency and management that works with Spanish, American and European bands releasing records and planning tours. We work 360 with Spanish bands and we agree on different levels —label, booking— with international bands. We curate an eclectic catalog that goes from instrumental folk artists to punk bands or electronica.
https://lacastanya.bandcamp.com/
http://lacastanya.blogspot.fr/
https://www.facebook.com/lacastanya/
THE ARTISTS / RECORDS
ME AND THE BEES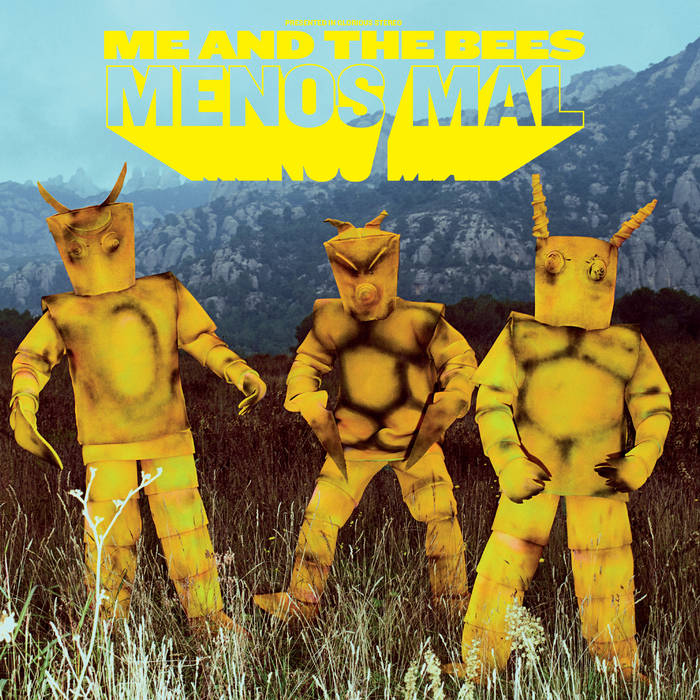 Un cálido homenaje al pop soleado de estribillos imbatibles y armonías celestiales. Un imán para los alérgicos a la quietud.
Acabaron los días grises y el largo invierno,Me and the Bees tienen, al fin, nuevo disco, Menos mal.
Quince canciones cálidas que pocas veces superan los dos minutos de duración y que se enganchan a tu piel como si el verano no acabara nunca. Con
este tercer elepé, el grupo consolida definitivamente su alineación como power trío, aupado a cuarteto con la colaboración regular de Guille Caballero (Els Surfing Sirles,
Joan Colomo), y que mantiene a la banda en la primera división del pop nacional. Me and the Bees siguen empeñadas en demostrar que son las reinas de la melodía,
arqueólogas de la canción perfecta, la armonía mágica, el estribillo inmediato. Si ya en sus dos primera referencias (Fuerza bien y Mundo fatal) nos maravillaron con
su pasmosa facilidad para facturar pop redondo, con Menos mal siguen trazando un mismo objetivo: pasarlo bien ellos y hacernos la vida más feliz a nosotros. Uno de
esos discos de los que te dibujan una sonrisa y te la dejan grabada con permanente. Desde los primeros acordes de "Feel Good" descubrirás que Me and the Bees se
alejan de monsergas y abrazan una cotidianidad que pasa de fuegos artificiales, un hedonismo pop en el que siempre salen victoriosos. Todo ello dejando que las
voces fluyan con total libertad de movimientos, donde Esther, Carlos y Verónica juegan a intercambiar roles vocales con resultados celestiales. Piensen en todos
esos nombres de los sesenta de las Supremes a Smokey Robinson, de los Beach Boys a los Byrds y añadan el ruido de los noventa. El cocktail de
Me and the Bees recoge la mejor tradición de las girl-bands y el pop sixtie y la marida con el indie de la escuela Pavement.
El resultado es un álbum sin relleno y donde cualquier canción podría ser single. Prueben a escoger un tema al azar y seguro que acertarán: el solo bailongo de "True
Bypass", el estribillo hecho de canción en "21, 32, 45, 69", el final apoteósico de "I'm On Fire" o la maravillosa ternura cándida de "If You" o "Spinnin'", donde participa en
los coros Inés Martínez de Albornoz (Las Perras del Infierno, La Célula Durmiente).
Si buscaban un disco de pop del que importa, no hay duda de que con Menos mal han acertado.
More infos : https://www.facebook.com/Me-and-the-bees-163151755674/
THE VAN PELT
Dig deep enough through the archeological record of the 1990s underground and the lines between post-hardcore, indie rock, and emo begin to blur. Looking back on the work left behind by the Van Pelt, it's as if those styles were less offshoots branching out in different directions than tributaries flowing into a larger pool. Originally active for just four years, the Van Pelt released two full-lengths before breaking up in 1997. Both releases heavily reflect their time and place. Some elements sound dated, even clichéd, to our modern ears after decades of overuse: the undistorted guitars, the somber tone and cerebral lyrics, the trebly production that progresses to Albini-like room ambience from one album to the next.
If you're allergic to these sounds, the Van Pelt aren't the best vehicle for overcoming your prejudices. Dozens upon dozens of bands have yielded songs like the vaguely punkish, uptempo pogo-jangle of "You Are the Glue," for example, off the band's 1996 debut Stealing from Our Favorite Thieves. In several respects, the Van Pelt were stereotypical of their era, but if you look past the cosmetic features, Thieves and its '97 follow-up Sultans of Sentiment provide a zoomed-in perspective on a group of overlapping movements coming to a head more or less at once.
Period aficionados will rejoice over the historical value here: out-of-print titles by an obscure band with members who would go on to better-known acts like Blonde Redhead (bassist Toko Yasuda) and Jets to Brazil (guitarist Brian Maryansky). But nothing on either album positions the Van Pelt as a "missing link" within a greater narrative arc. Instead, what comes across in hindsight is just how much rock's fringe had encroached on the mainstream and vice-versa. In an ironic twist, the Van Pelt were offered deals by several major labels but only one indie, Gern Blandsten. Averse to being groomed into "the next Nirvana," the band remained independent.
It's hard to say whether the Van Pelt would have broken had they chosen the opposite path, but it's easy to picture the production on Thieves beefed-up and window-dressed. Easily the more derivative of the Van Pelt's two albums, Thieves nevertheless crackles with personality and energy, not to mention hooks. In a parallel reality, at least tens of thousands of people are looking back on their teenage years getting misty-eyed at the way "It's a Suffering" soundtracked their summers. The song's chorus is so big and full of a sense of promise that it rivals anything Foo Fighters ever struck gold with.
On the other hand, frontman/guitarist Chris Leo keeps one foot defiantly planted in art rock and post-punk, too. Leo—brother of Ted Leo, who supplies backing vocals and percussion—spikes much of Thieves with somewhat non-melodic verses that border on the spoken-word style of the Tragically Hip's Gord Downie and the Jesus Lizard's David Yow. Much of the lyric sheet reads as prose. This is unsurprising given that Leo would go on to publish novels, starting with 2004's White Pigeons. But he had already reeled-in his wordplay in favor of economy and space by Sultans of Sentiment.
Sultans doesn't quite flow with the same continuity as its predecessor, but it's a major step forward in terms of production and vision. In some respects, the album sounds as anchored to its time period as Thieves does—Leo and Maryansky weave-together arpeggios and chords as so many of their contemporaries did—but the improved fidelity exposes the unique fingerprints in Leo's songwriting. Sultans was written and recorded during a personal low point for him, and whatever plagued him at the time remains buried under heaps of metaphor. Still, the album is completely devoid of the youthful bluster from just a year earlier. Somber and reserved, Sultans is, in a manner of speaking, heavier.
When the Van Pelt wander off the beaten path, such as on the folky violin-laced "Don't Make Me Walk My Own Log," they sound like a band on the hunt for their own voice. You can debate whether they ever found it, but the Van Pelt might have been more ahead of the curve than anyone could have rightfully guessed in 1997. Watching live clips of Sultans-era material from a brief 2014 reunion, Leo and company recreate the vibe of the original recordings with an accuracy that few bands ever nail after that much time has passed. The songs sound even heavier with age, and surprisingly in-tune with current sounds. Perhaps they contained an adult wisdom that the Van Pelt were unable to convey back then. Whatever the case, they were onto something.
(PITCHFORK)
ARIES
Time goes by and the Spanish independent music scene is becoming more and more unrecognizable. The coming and going of the here and now and the accelerated
consumption of culture related products means that we journalists hardly ever look back and reflect on, for instance, the level of maturity that some local bands have
achieved. That is something that can be noticed on records like this Adieu or Die by Aries , Isabel Fernández Reviriego's alter ego. It's a bold record, both written and
played integrally by her, sung in Spanish and that doesn't shy away a certain taste for experimentation. It's no mean feat. Isabel tells me that that's important for her: "I've
done everything myself. Every sound is mine, every synthesizer, every melody, every beat." That would be highly commendable in such a scarcely feminine environment as
the Spanish scene (although names like Mursego, Maria Rodés or Lidia Damunt are currently changing this situation), but on top of that, the final product is just brilliant.
Adieu or Die is a small pop craftsmanship masterpiece that intertwines classic and
modern musical traditions with an ease and a freshness that are hard to find. "I want to give you melodies and make you float / like flakes in the dark"
On this record, Ariestakes the virtues of her previous record, Mermelada Dorada , also on La Castanya, and Magia Bruta,
her debut record on BCore, to a deeper level. Her powerful mixture of strongly sixties flavored melodies, echoes of Brian
Wilson and the psychedelic sound of the American West Coast with warm electronic constructs reaches a very high level here. You can hear that in huge songs such as
"Lágrimas"/"Lágrimas II" or "Nuestra Casa", where one can grasp Isabel's unique capability to provide a light and graceful air to her songs. Or in "En el Océano",
where we can hear her superb ease to weave shiny harmonies without being corny.Furthermore, on Adieu or Die Aries succeeds in fading the long shadow cast by
her former band, Charades, moving her songs into a fertile territory, far from stylistic pigeonholes, where she could live next to such disparate artists as El Guincho,
Desert, Bflecha or Prisma en Llamas. "No tears can heal" Adieu or Die can be seen as an inner trip in which "someone disintegrates, while the
world disintegrates around him or her", in the words of Isabel Fernández Reviriego herself. A breakout from the everyday strife that gets its driving force from the kind
of things that make you want to keep on fighting. Even though it radiates a certain amount of melancholy, this is a happy record that doesn't sink itself in the somewhat
fake sadness favored by some current singers. No tears can heal, to be healed it is far more useful to immerse. Immerse oneself, for instance, in the vibrant eleven
minutes of "Adieu or Die", the song that lends its title to the LP, a unique excursion into electronica reminiscent of both Brian Eno and Panda Bear that will raise many
an eyebrow. Long live Aries !
BEACH BEACH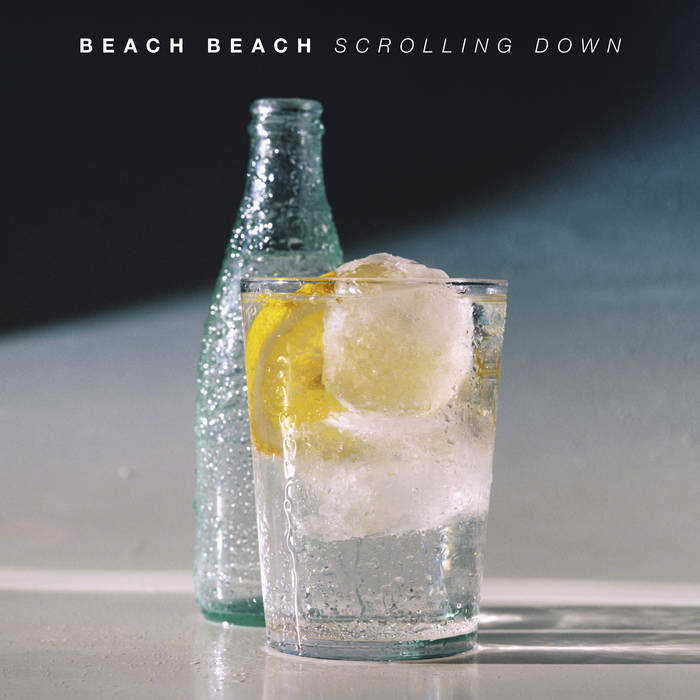 Barcelona-based Majorcan quartet Beach Beach return with a brand new double A side 7" single Scrolling Down" b/w "Vegetating.
Both songs are odes to The Hangover, serving up two selzer-fizzing slices of laid-back indiepop, due out on La Castanya in March.
Following Beach Beach's critically acclaimed album The Sea (La Castanya 2014), "Scrolling Down" serves up layered, wistful guitars and surreptitiously complex
melodies which grow more intriguing and distinctive with each subsequent listen. Gorgeous and considered, the song melds a classic indiepop arrangement with a
crescendo of oscillating drums – signifying a darker, introspective inclination. This tension is revealed as a collective one: the guilt felt during a hangover. The lyrics
depict the familiar scenario of waking up and, out of habit, mindlessly scrolling through your phone whilst feeling overwhelmed with regret.
"Vegetating" is also about coping with a hangover. It is a snapshot of a whole hungover day, lying in bed and noticing every tiny detail of the person that you're
with or the blinds on the windows or the pictures on the walls. Inspired by the jangle pop sounds of Sarah Records or Flying Nun, with added
elements of 90's indie rock and classic rock from the 70's, the songs recall bands like Teenage Fanclub (whom Beach Beach will be supporting on the Spanish leg of
their tour having previously performed as Gerard Love's backing band). Beach Beach have also toured extensively, playing live across the UK, Europe, and South America
as well as festivals such as Primavera Sound, FIB and Eurosonic. The band, consisting of Pau Riutort, Tomeu Mulet, Àngel Garau and Lluís Cabot,
spent their time between releases playing for and constructing other projects; Lluis and Angel performed as Da Souza, Pau played drums in El Guincho and Extraperlo,
and Tomeu performed as Polseguera. This experimentation became a valuable blueprint for Beach Beach's more assured songwriting.
THE ZEPHYR BONES
Zephyr = céfiro.
1. m. poniente (‖ viento). [A breeze from the west]
2. m. poét. Viento suave y apacible. [A soft and gentle breeze]
3. m. Tela de algodón casi transparente y de colores variados. [Any of various lightweight fabrics and articles of clothing]
Every definition found for the word "zephyr" at the Real Academia de la Lengua dictionary could be applied to the music of The Zephyr Bones and they would hit
the mark: these 4 songs, released in digital format almost a year ago, in July 2014, and that appear here physically for the first time could not be understood away
from the sea, far from the endless evenings and the roads by the beach that, half covered by the sand, remain deserted until the next day, when another wave of
vacationers will pack its roadsides first thing in the morning to spend the day by the sea, trying to convince one another that they are free and, best of all, that they're
alive. This is not a gratuitous claim: the four cuts in this limited edition cassette refer to the most fundamental fluid in the natural chain. And the damp is noticeable.
Self recorded by the band with clear intentions and total indifference for results at the Big Beat-Big Waves studios in Barcelona, Brian, Jossip, Toni and Nico
effortlessly position themselves on the dream pop and the New Wave of the New Wave side and speak the same musical language as bands such as The Drums,
Wild Nothing, Real Estate, Beach Fossils or even Beach House, that is: spacey instruments, skeleton rhythms, silvery synths and the melody of a voice that,
rather than singing, seems to surf over the songs in a slow, easy dance that has the ability to calm down and wrap up at the same time.
"Weird Summer", "Get Away From the Coast", "Los cocodrilos" and "Let's Spit Our Bones Into The Sea" are a magnificent way to start a road that was slightly
different from the get-go: three of the band members are Chilean and the fourth is Catalan. The Chileans emigrated from their country only to end up in Barcelona
with one goal in their minds: to be able to make a living out of what they love, music. They played their first songs here in a train coach in front of an audience
formed by travellers of the suburban line that connects Barcelona with Sant Vicent de Calders. A route that, by the way, runs along the Mediterranean coast.
ISASA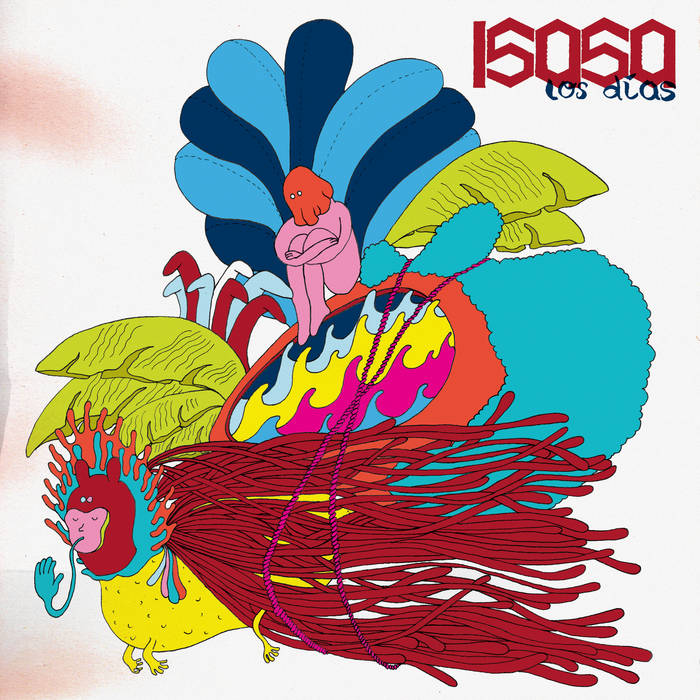 One of the chief pleasures of schlepping a guitar through Europe and the UK over the years has been the opportunity it's afforded me to meet and hear other musicians.
When John Fahey made his first recordings in 1958 he could not possibly have foreseen how far-reaching his influence would be. Today the path that John hacked through the musical
wilderness of the latter part of the 20th Century has snaked its way across the whole planet, to countries, cities, and backwaters he never set foot in. It's more than just a little astonishing
how widely the style of guitar music John created has traveled, taken up by people he never laid eyes on or imagined might exist. Called American Primitive,
the tendrils of this musical style now stretch far beyond the borders of the country of John's birth. (And here I must note the critical role my dear friend Jack Rose played in spreading the gospel.
For many young listeners and players, Jack was their entrée into this music. I lost count how many times people came up to us during our month-long tour of Europe and the UK in 2004,
saying, "I never heard John Fahey's music. What records should I start with?" It happened so often as to become commonplace). Which brings me to Madrid's Conrado Isasa.
Conrado sent me his first album, Las Cosas, a year ago. It was a good first effort, I thought.
Not everything worked, but I could hear in it the stirrings of a musician of depth, one who had obviously spent hours, days, years absorbing the works of the players who had come before
him and countless dusks and dawns alone with a guitar, learning how to let it speak for him. With Los Días ("Days") Conrado has more than come into his own. His technique has matured
to the point where you don't hear technique anymore, just what he has to say. Commenting on each song would be pointless —this is an album after all, not just a collection
of individual pieces— but whether he's employing acoustic, lap steel or electric guitar, there is a unity of purpose here and an underlying sense of calm and flow (and drama —
Los Días Have Gone By?) that is irresistible and compelling. This is inner music —more for Sunday morning than Saturday night— born of solitude, of a love
of the sheer sound of the guitar as a means of personal expression and exploration. I'm impressed by how unforced Los Días feels, how willing Conrado is to let his music take
him —and us— where it will. It's a captivating voyage, one I hope you'll relish as much as I do.
ATOMIZADOR
Atomizador's Fuego is a collection of timeless pop songs that, through bursts of voice, echoes, background vocals and ukuleles and classic guitars, make us look up towards
the Milky Way and think of wide time periods, far from the boredom and the loops of everyday life and the clamor of fashions.
Just this afternoon, Fuego has fallen into W. Amadeus Mozart's hands, who, after several listenings, had this to say about the record: "All those merry melodies resounding on
the wood of the guitar and the ukulele sound so familiar. I used to be a cheerful and innocent person too, tormented at times by the abundance of stimulus and the proximity
of death and horror. I used to like thinking about strange underworlds, yet disturbingly similar to ours, as if normality had been slightly confused by some randomly subversive
element. The Magic Flute's main character, for instance, is a wild and free spirit. And he jumps around quite a lot. I could've been a good friend of Atomizador if my life
had been 224 years longer… But my body came apart shortly before that. However, I find something disturbing in Fuego's suppressed anger. It's got something to do with
overflowing energy; something is overloading the electric system. What's going on in the 21st century? Nothing that looks too good, man…"
(W. Amadeus Mozart grabs a telephone and calls J.S. Bach) "Bach! That Atomizador is just like me." "No, man. He's just like me". "No, me". "What are you talking about? He's
just like me". "Me". "No, me". "He's just like me". "Do you remember when we went on vacation to Switzerland?" "Yeah, those guys did sing in the highest of pitches". "That's
because they're on top of a mountain and high tones make it easier for the sounds to reach the other side of the valley". "You're right, Mozart. Fuego has that spirit, the spirit
of the strong, healthy men of the hills, the friends of the partisans. Do you remember the Second World War, Mozart?"
We go back a million years in time. It's 1986. Brian Wilson plays Fuego on his record player and immediately wonders if the right speed is 33 or 45 RPM. It's hard to tell…
It seems to work both ways. Brian Wilson turns his toaster on and sits in his armchair, facing the Pacific Ocean. A million years ago, in 1986, whales used to expel steam jets
with a rhythm pattern similar to that of Fuego. Punk bands and very disparate historical figures are also evoked in Fuego, that includes
"Punk boy" – atomized cover of Helen Love, passionate fans of Joey Ramone –, "You don't love me yet" – by Roky Erickson, the artist who got lost in the deep oceans of
Psychedelia– or "BWV 639 Ichruf' zudir, Herr Jesu Christ" – by J.S.Bach –a song for small organ that Tarkovski would take to the planet Solaris…
ESPERIT ! NEGRO
"Heráclito" brings together two of the most interesting characters in the Mediterranean psych scene. Esperit! and Negro share an experimental
trip full of hallucinogenic, kaleidoscopic and unpredictable folk music. After having spent many an hour together on the tour van and fought a thousand battles
on stage, it was about time Dalmau Boada and Fernando Junquera (Esperit! and Negro,if you prefer it that way) decided to share one of those round black plastic pieces we
call "records". A record called Heráclito that they share in true brotherly fashion: one side each, but both of them marked by a common DNA of magic and complicity. A
proper experimental trip, chock-full of hallucinogenic folk and the most unpredictable and kaleidoscopic sounds. Just through their sole juxtaposition, Fer and Mau's cosmic
powers react, merge into each other and multiply. Even though they write and record 300 kilometers apart from each other, there's something essential that sneaks in one another's
music, as if a happy corruption occurred. They are certainly two of the most interesting personalities in the Mediterranean psychedelic scene and, after acquiring experience
separately in a thousand collective and solo ventures, they now attack in unison. The liner notes warn us: Heráclito is going to make us all believe in humanity again. Amen.
NEGRO
It's most unusual to find a musician like Fernando Junquera in the independent music
community. Performing virtuosity, a marked artistic personality, a creative statement
that mixes tradition and experimentation, a dark sense of humour… A rara avis indeed. Previously a member of
Estrategia Lo Capto, he started his highly personal solo project Negro back in 2007 and since then he has released
Negro (Greyhead, 2007) and Formación del espíritu nacional (La Castanya, 2012). Always reflecting with the guitar
as a central instrumental raison d'etre, Negro's songs are sandwiched between intuition and dexterity, between lyric and fun. A comprehensive discourse where one can find
anything from ambient to mutant blues through field recordings, fingerpicking, rusty folk, post-punk or lo-fi lyric, with a list of influences ranging from John Fahey to Jim O'Rourke.
Furthermore, he has played on El Niño de Elche's revered offeringVoces del extremo.
ESPERIT!
After having travelled around the world with a plethora of musical adventures, mainly his band Les Aus, now Mau Boada
(Sant Celoni, 1981) presents his most personal project, Esperit! A one man band whose hallucinogenic lullabies, trippy folk, telluric
sounds, noises and outings to the circus will make us travel. In spite of his youth, Mau Boada
has already left his mark in more than twenty records. He can show up in the New York underground scene as naturally as he does in Sant Celoni or at the
Heliogàbal bar, or during the time he spent touring Europe as part of a circus company. His performances are always unpredictable and take unsuspected roads, carrying the
audience to the verge of hypnosis. An illuminated and smiling one man band. A music that is born free and flows free, as shown in his records Endavant continu (2011) and
La lluminosa (2014), both released by Bankrobber.